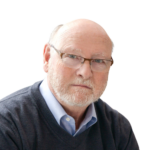 Advisory Board Member
Mr. Jim Hunt brings to Intelligent Waves' Board of Advisors over 40 years of technology and investment expertise with a principal focus on companies with technologies that can have a positive impact on operational efficiencies, particularly in the public sector markets. Hunt serves on the boards of Lucata, AllVision, Graphika, Information Security Corporation, NextFED, cPacket, 202 Group, and SpotterRF and is an active member in multiple angel groups. Hunt spends a significant amount of his time scouting for world-class, game-changing technology companies. In addition, Hunt is an Adjunct Professor at the McDonough School at Georgetown University and at the University of Notre Dame and teaches cornerstone courses in business planning and entrepreneurship. 
Hunt began his career in Washington in the mid-'70s as a U.S. Government scientist. Following his tenure with the government, Hunt founded "BDS, Incorporated" where he served as CEO for ten years. In 1991, BDS was merged with BTG, Inc., and Hunt assisted in the integration of the two companies. In 1992, BTG was taken public in a successful offering. Hunt then went to Price Waterhouse where he created the firm's system integration practice. After two years at PW, Hunt was recruited away with 17 PW colleagues and founded "Ernst & Young Technologies" (EYT), where he was CEO for eight years. EYT was subsequently sold to CapGemini and Hunt served as President of CapGemini Technologies for two years.
After leaving CapGemini Technologies, Hunt founded "The MITA Group" – a Washington-based consultancy focused on public affairs and business strategy. MITA Group executives subsequently merged with other executives from a similar consultancy and formed "NextFED, Incorporated" where Hunt serves as a Director. Hunt began his angel investing activities in the mid-1990s with five investments in the areas of cyber, data center management, social media, mobile applications, and sensors and sensor management. Since those initial investments, Hunt has had over 25 successful exits, and now has an extensive portfolio of over eighty companies.
Hunt is a graduate of the University of Notre Dame and Rochester Institute of Technology and sits on the Notre Dame Engineering College Advisory Council. Additionally, Hunt is a past chairman of the Computing Industry Technology Association.